~ Birds of Bhutan ~
---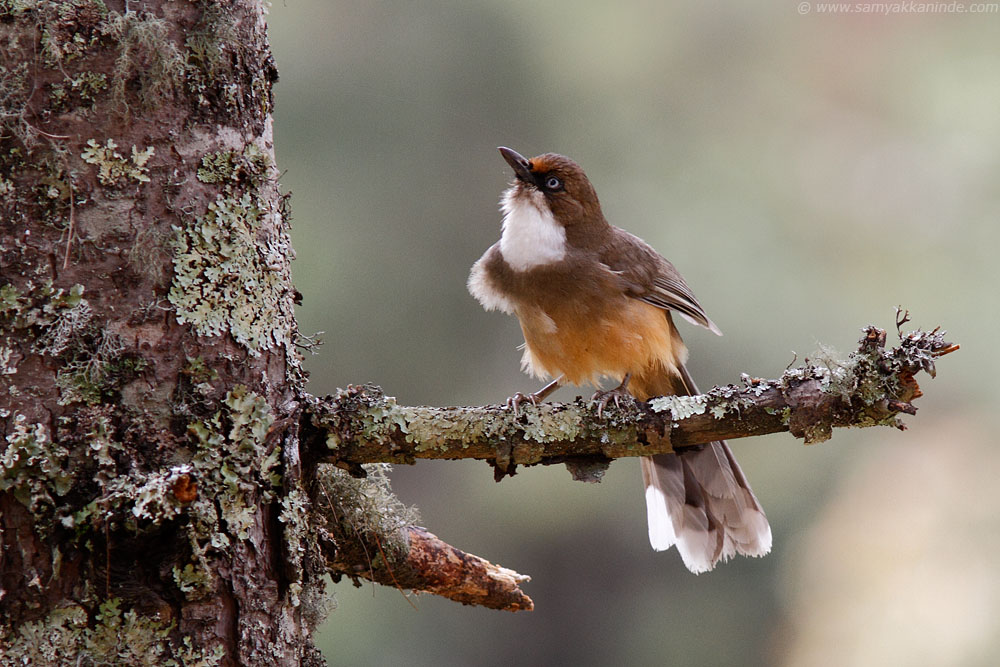 The White-throated Laughingthrush (Garrulax albogularis) - This bird was always found in a group of 5 and more feeding just by the roadside or near the valleys. Though, you stop to take a photograph and everyone would go in thick bushes to be never seen. Finally, hiding behind a tree for some time and waiting for it to arrive paid off. Always restless, it just keeps jumping from perch to perch.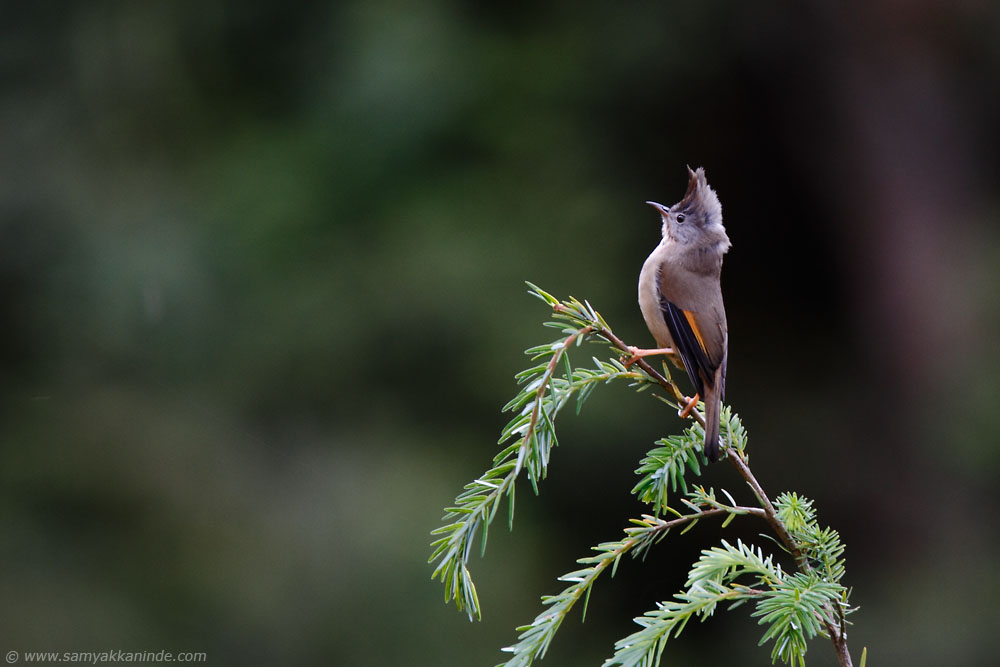 The Stripe-throated Yuhina (Yuhina gularis) - These very cute hairstyled bird was fearless when I Stopped my bike looking at it. Having a camera hanging around neck was useful, as I took few shots where its upright stance is so well seen.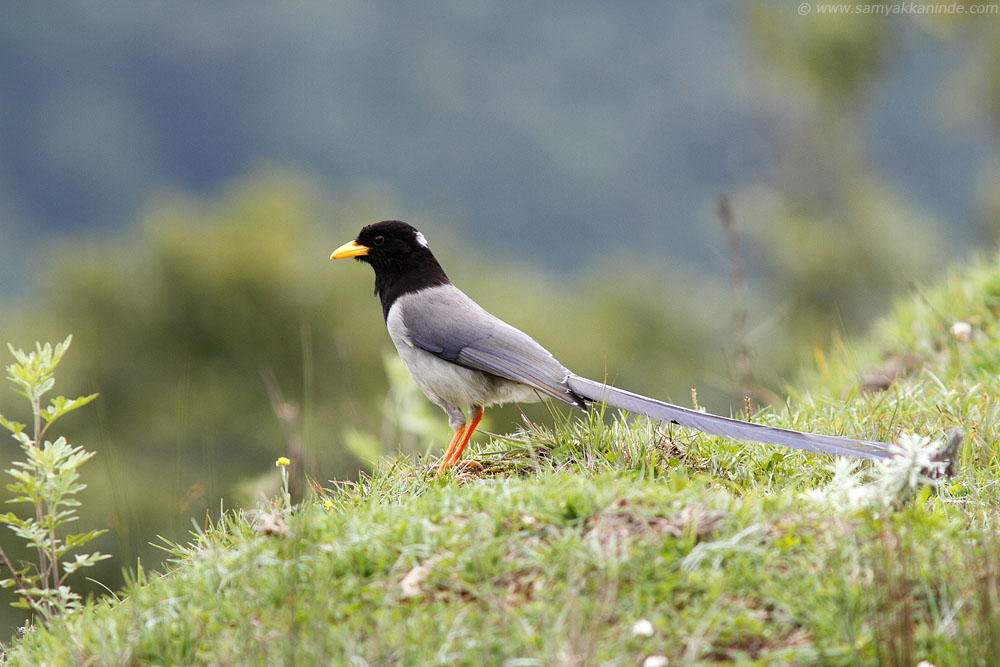 The Yellow-billed Blue Magpie (Urocissa flavirostris) - I have alwways seen this beautiful long tailed bird in my previous himalaya trek. But, in this biking trip, it was always seen by roadside, busy feeding. I had shot loads of unsatisfactory photographs of these all the way. But, this one, on our return journey was perfectly bold enough to let me come close, was at the edge of the valley and perfect diffused lighting to capture it so beautifully.
Mrs Gould's Sunbird (Aethopyga gouldiae) - This exquisitely colored sunbird was the most difficult of species to get. At Dochu la, I kept hearing this tiny bird making noise around the bushes. But, due to its restless nature, it was difficult to even see it. Finally, after half an hour of waiting, it could came in open to check on me until I have to stop shooting as it was too close for the lens minimum focal distance. What a lovely pattern and choice of colors !!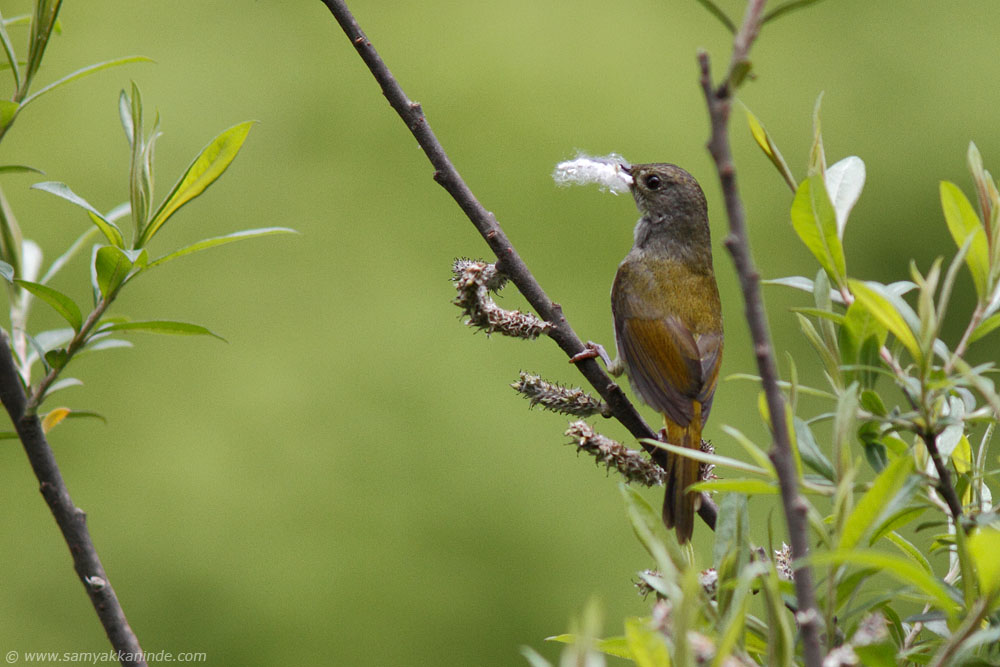 sunbird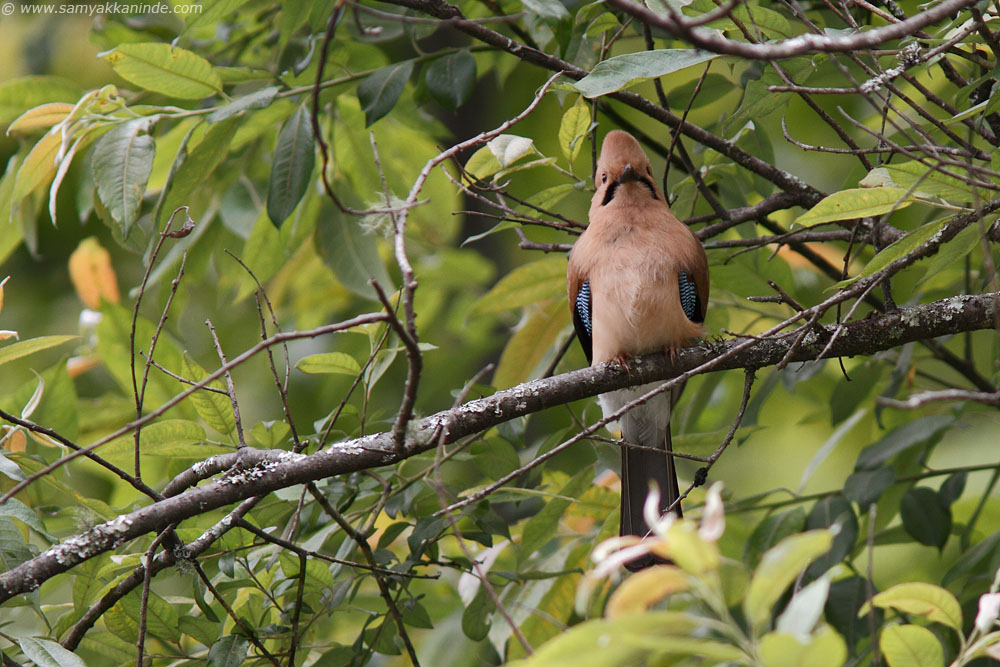 The Eurasian Jay (Garrulus glandarius) - After trongsa, we took the turn and were climbing up the mountain when this bird came out calling from behind a big tree. The blue dots on its wings are so beautifully placed and moreover, it was busy giving me expressions like these. Who would resist stopping and shooting such a cute bird.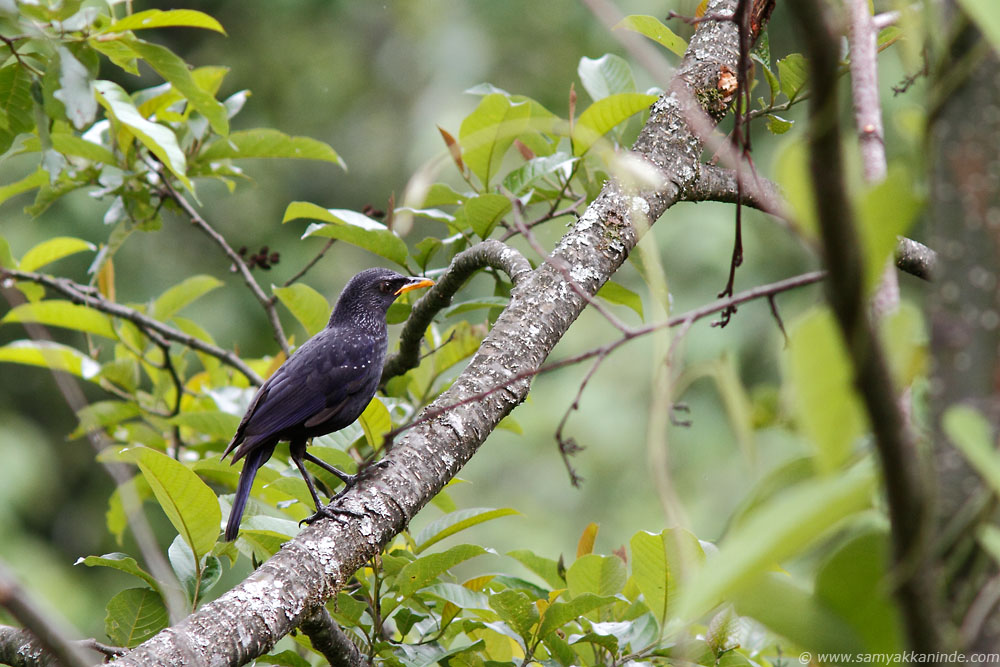 The Blue Whistling Thrush (Myophonus caeruleus) - In the whole world, I think, this bird should win award for the most melodious tunes it keeps singing. Hear this birds songs and decide yourself. One of the loveliest company was this birds whistling all along our biking trip by roadside. Its just that, you can not stop else it would stop whistling and hide away until you leave the place. This bird does not enjoy the audience. Finally, at one place, could get this one doing justice to its bright blue colors.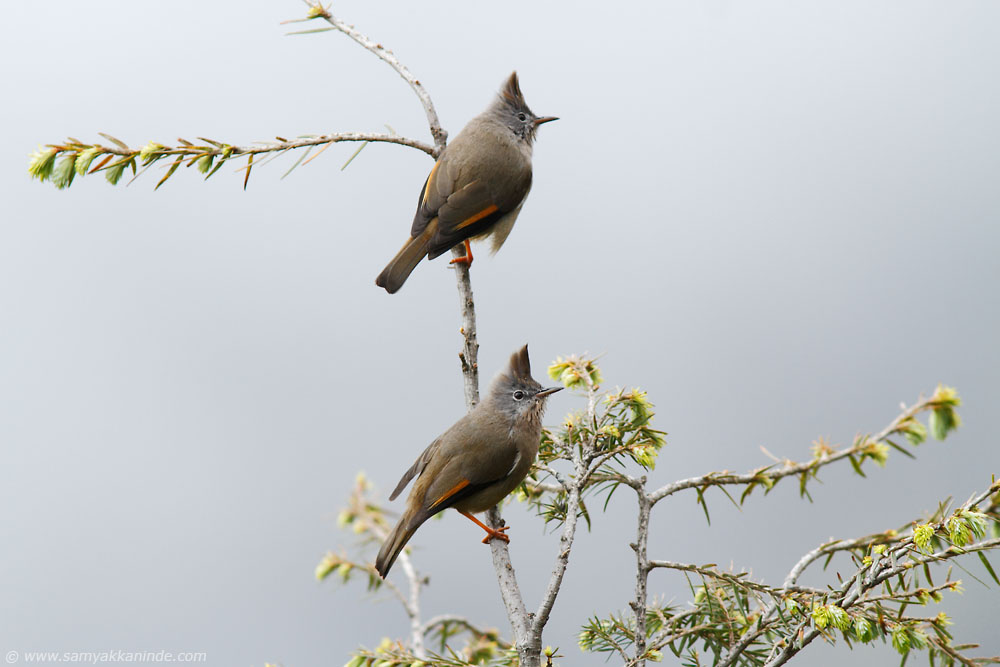 The Stripe-throated Yuhina (Yuhina gularis) pair - This one came and landed on this branch while I was busy trying to trace the sunbirds call. Could not resist such a lovely pair posing for you.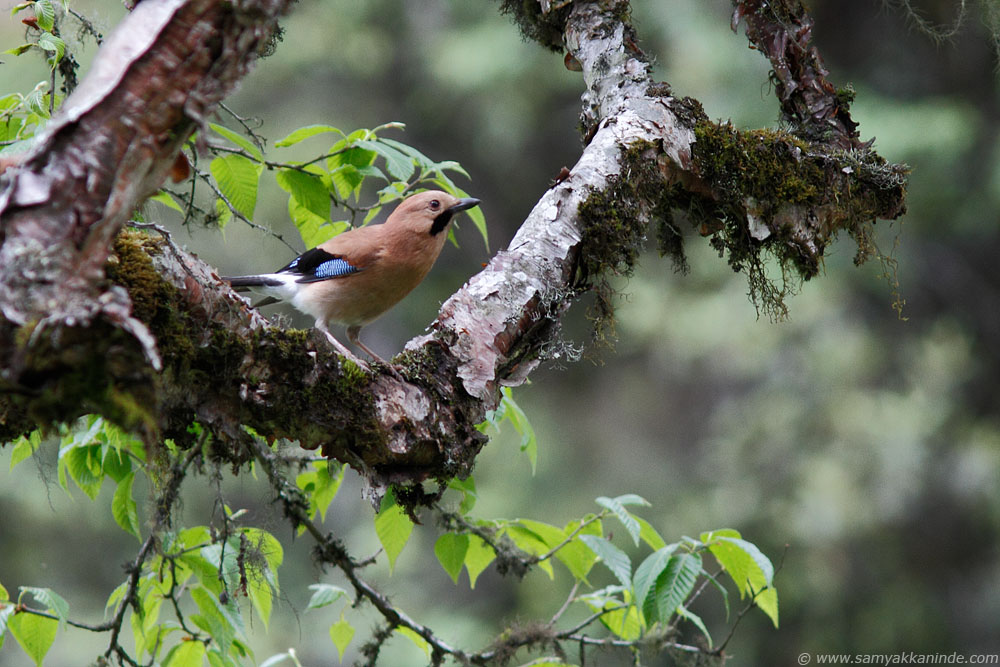 The Eurasian Jay (Garrulus glandarius) - After trongsa, we took the turn and were climbing up the mountain when this bird came out calling from behind a big tree. The blue dots on its wings are so beautifully placed. This one came out for a moment while I was busy looking for sunbirds at Dochu la.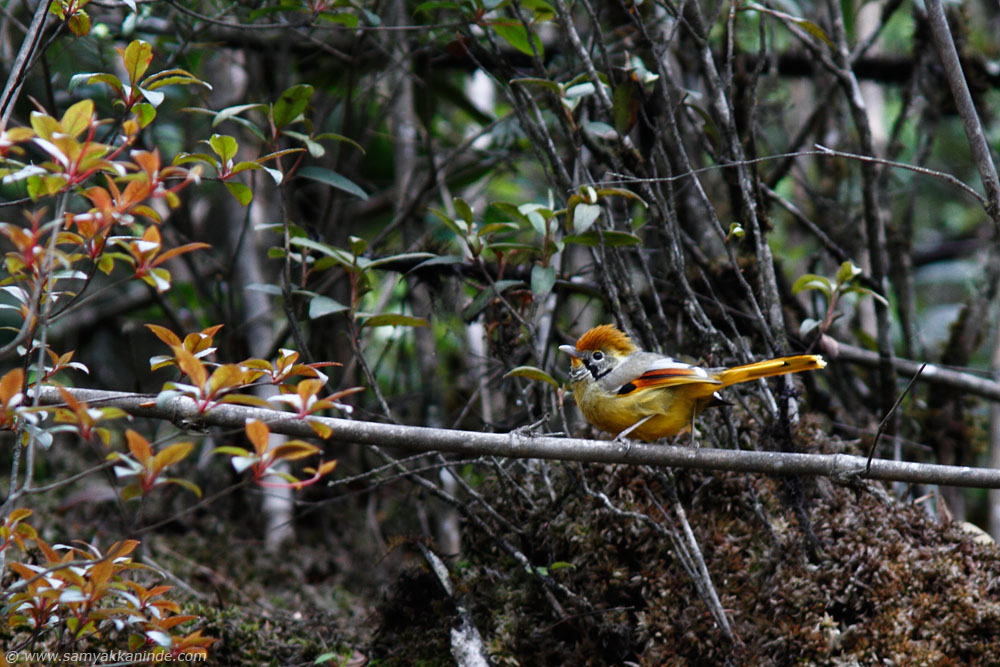 Chestnut-tailed Minla (Minla strigula) - I was lucky to get this one. Just stopped by for a moment to take a break and it came suddenly in front of me jumping in shady bushes. Tracking it was difficult, but when it came in open for a second, I could snap this beautiful pose of this shy bird.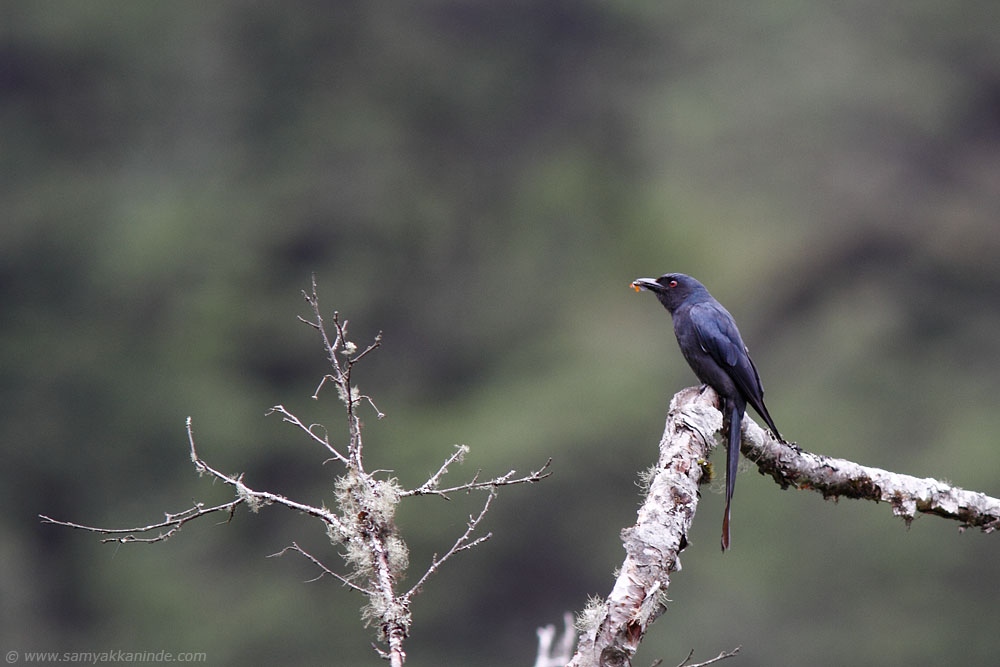 The Ashy Drongo (Dicrurus leucophaeus) - at Dochu la, I was looking for birds and this one was always there. Never felt like shooting it, until it left its perch, turned around in air, almost came at kissing distance of my lens, picked up this fly and went back to its perch. Watching its full wings open aerial maneuver to catch this fly won my heart. And, here it is, happily snapping the fly for its meal.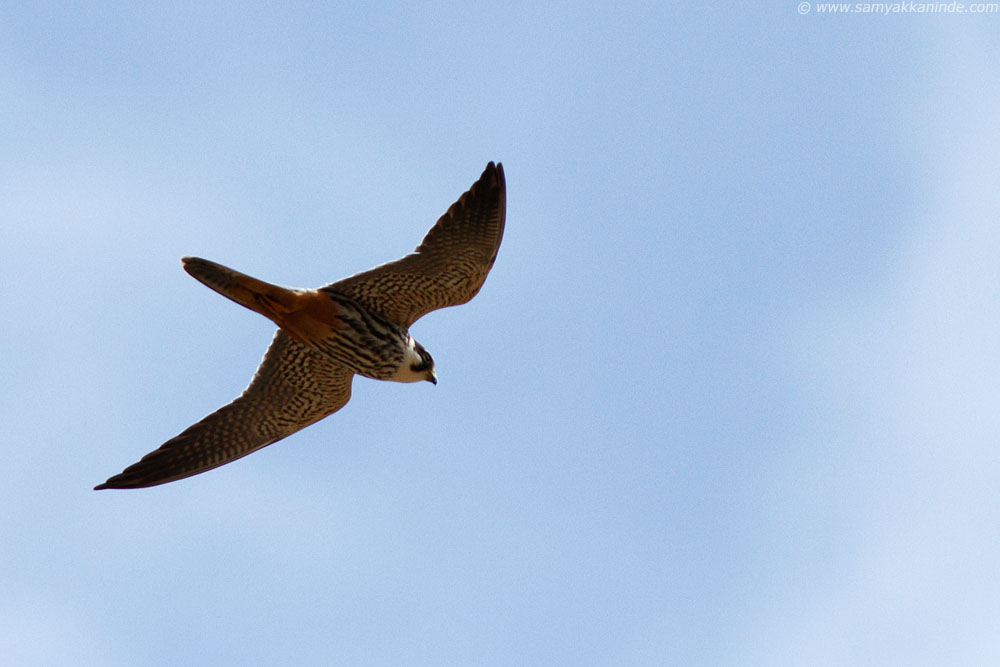 The Eurasian Hobby (Falco subbuteo) - This cute little falcon was an accident. I was shooting the white throated laughingthrushes by roadside, when Guru shouted about two birds flying overhead. Saw the pair just flying pass us and here is one of them.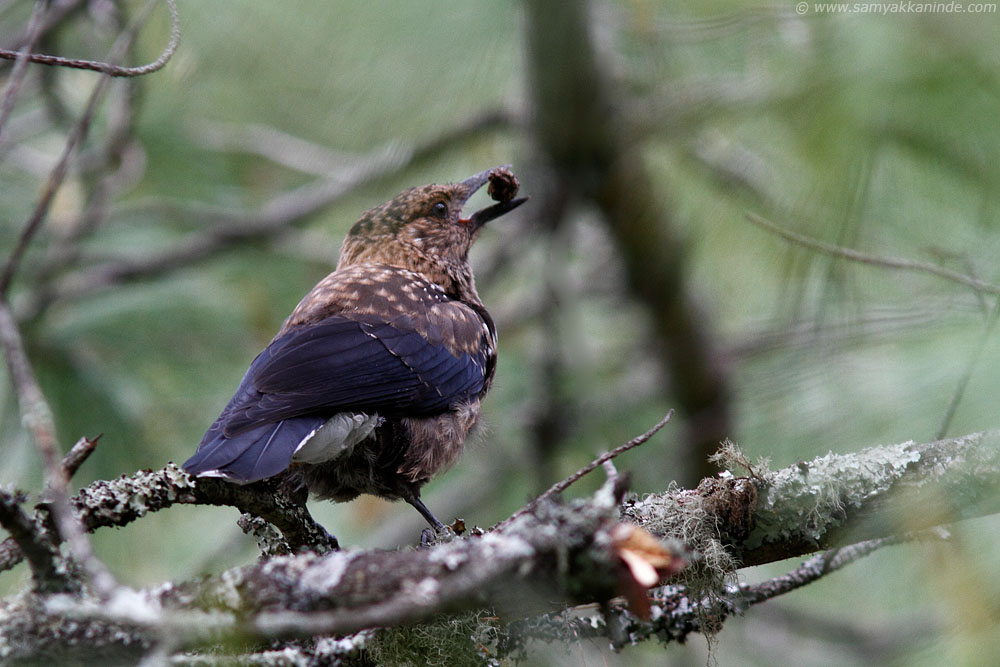 The Spotted Nutcracker (Nucifraga caryocatactes) - These were too many at Takin National Preserve park in Thimphu. The whole gang of these were making too much noise. They were experts in hammering and cracking these pine fruits.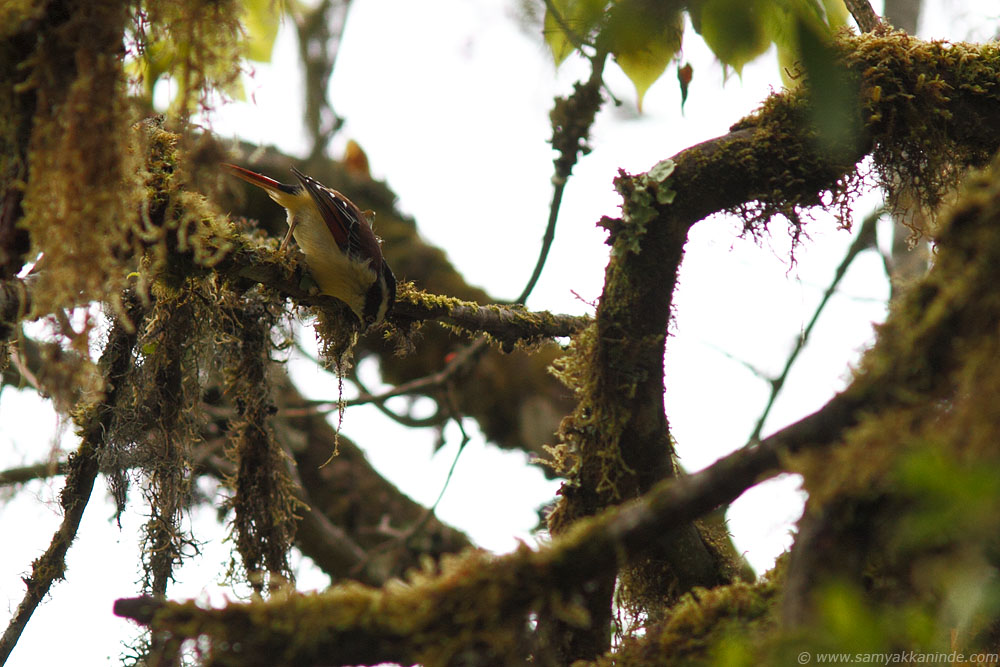 The Red-tailed Minla (Minla ignotincta).
The Chestnut-crowned Laughingthrush (Garrulax erythrocephalus) - Just saw them couple of times by roadside feeding and could not get better than this. Their colors were very rich and beautiful.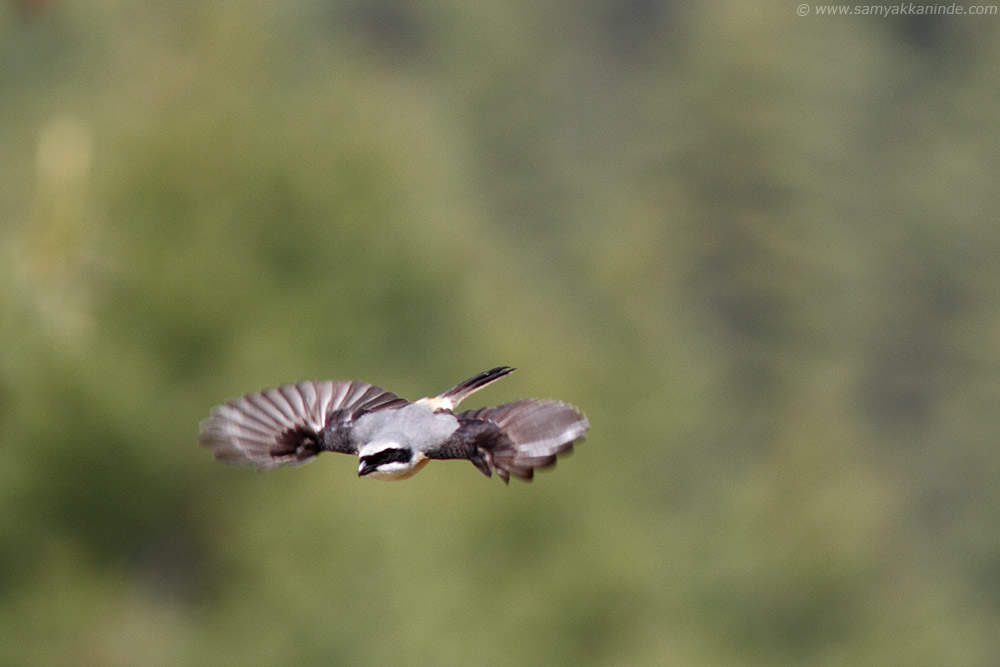 The Grey-backed Shrike (Lanius tephronotus) in flight.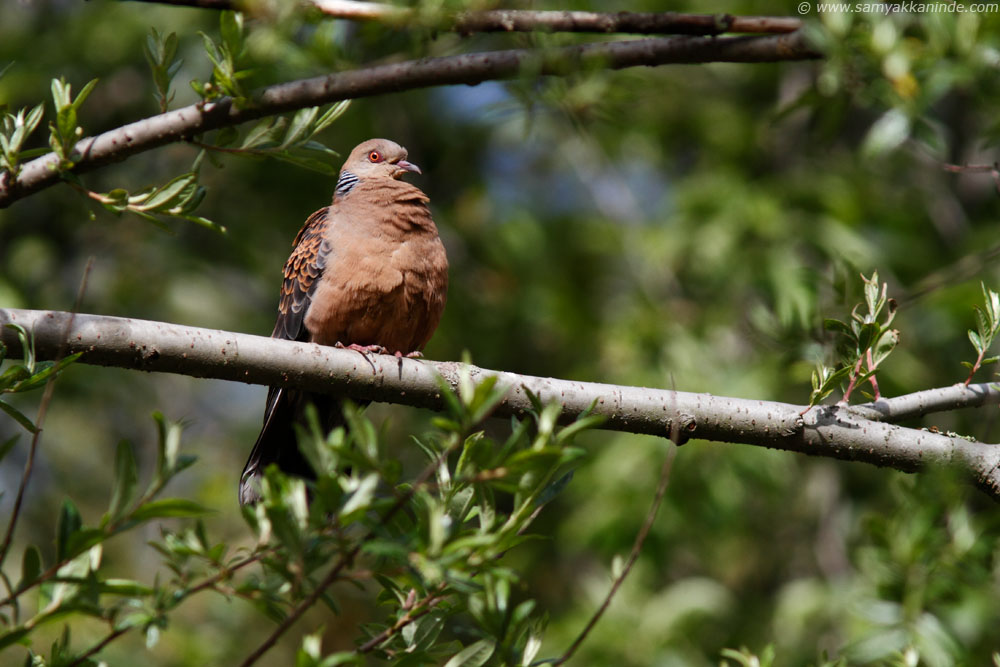 The Oriental Turtle Dove (Streptopelia orientalis) - very commonly seen thoughout our journey by roadside.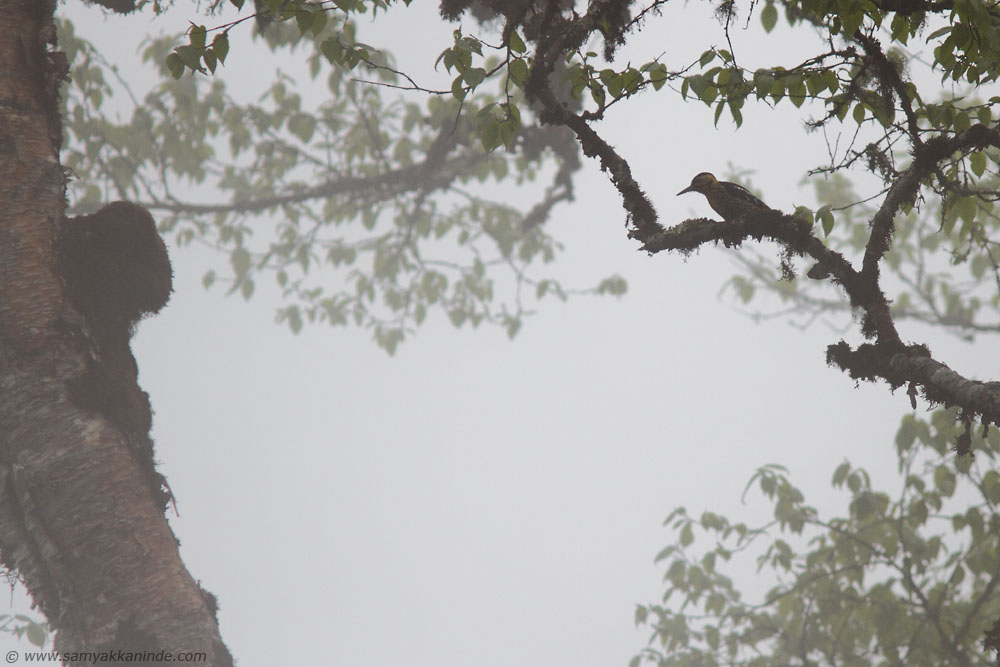 The Darjeeling Woodpecker (Dendrocopos darjellensis) - This one was busy plucking out all the moss and lichen from this tree and was working pretty hard at it. Being at Dochu la, where the mist rises, sun shines, rain comes within few moments all these changes, waited for mist to come and made this woodpecker image against the mist.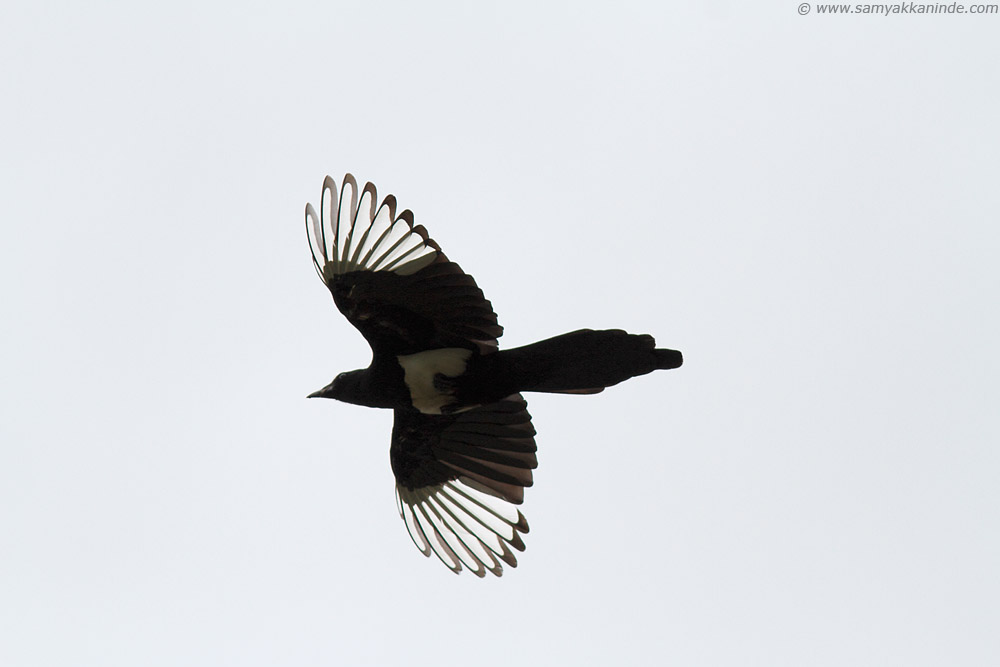 The Black-billed Magpie (Pica hudsonia) - seen around only Bumthang during our journey. This beautiful big bird with long tail was having tough times around the field. The crows kept chasing them away and they always have to take off after they land.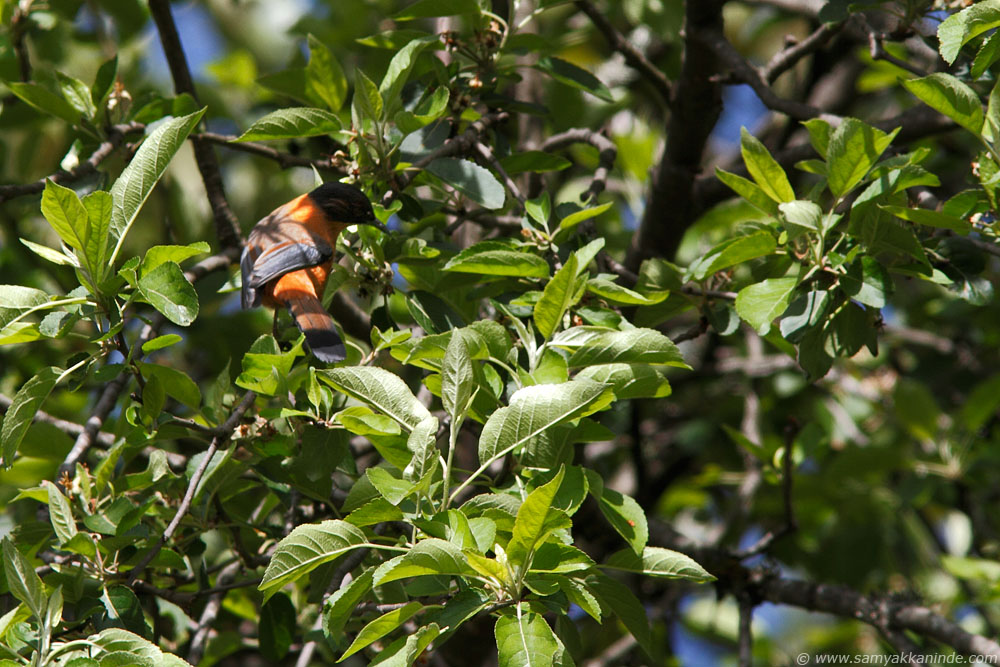 The Rufous Sibia (Heterophasia capistrata) came as a surprise visitor in the morning just outside our lodge.
Do not forget to write about how you liked them below. Thanks for the time spent here.