Bandipur National Park, Karnataka, India.
Bandipur National Park is located around 70KM from Mysore on the way to Ooty. We stayed at state run Jungle Lodges resort and took 4 safaris there for wildlife sightings.
Being a pongal weekend, it was quite a crowd and enthusiastic tourist were there. We were one of the few fortunates who had a good sighting of a leopard and a glimpse of a tiger.
The forest otherwise was quite dry and all waterholes were almost dry in winter itself. Sightings were rare to come by. Below are few snapshots from the trip.

Special Thanks to my usual companion Nara for a wonderful company and also for arranging everything for the trip.
It was a great pleasure, once again, to meet Sudhir Shivaram, who was kind enough to share his wildlife knowledge wealth and helped me upgrade my 7D firmware too.

Equipment: Canon 7D, Canon 500mm, Canon 1.4 TC, Handheld.
---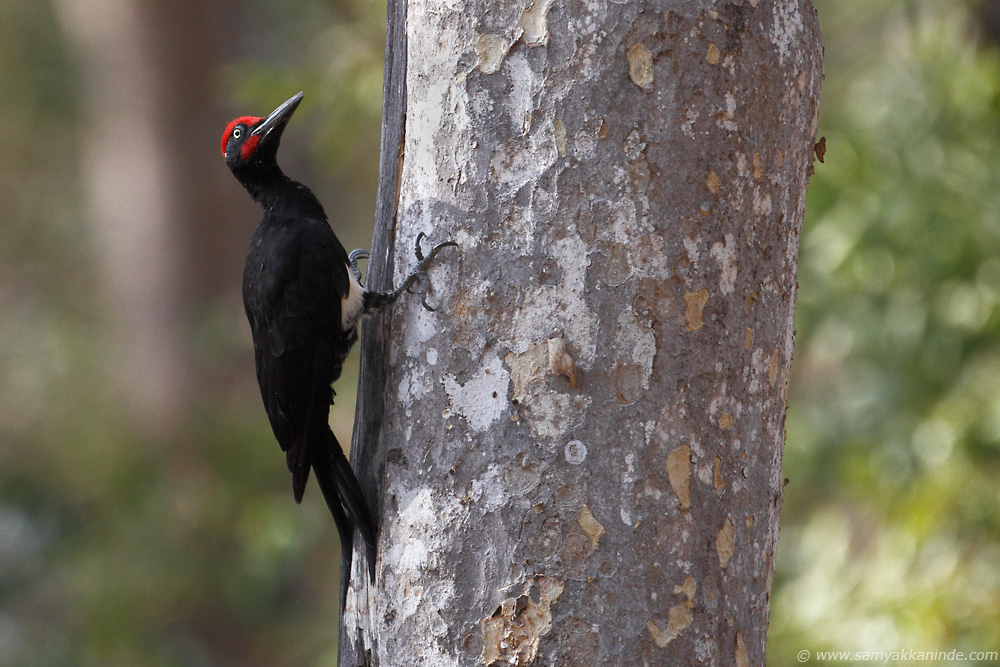 1. The White-bellied Woodpecker (Great Black Woodpecker (Dryocopus javensis) male - It was seen on two safaris and once was busy protecting its nest site from invading mynas.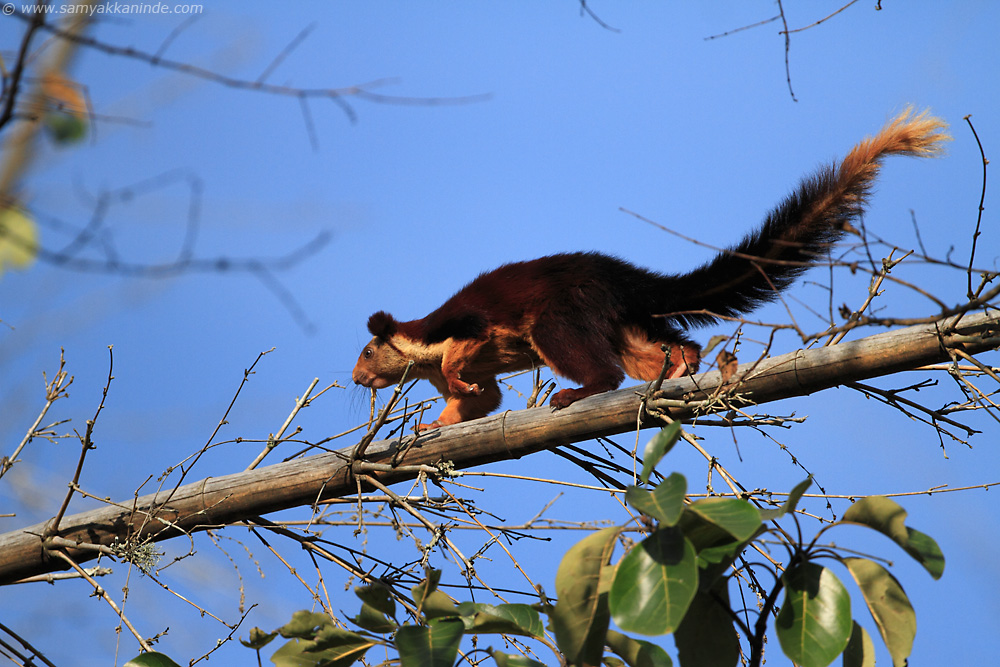 2. Malabar giant squirrel (Ratufa indica) - State animal of Maharshtra, this was busy doing a balancing act on this dried bamboo that it uses to cross over tree canopies.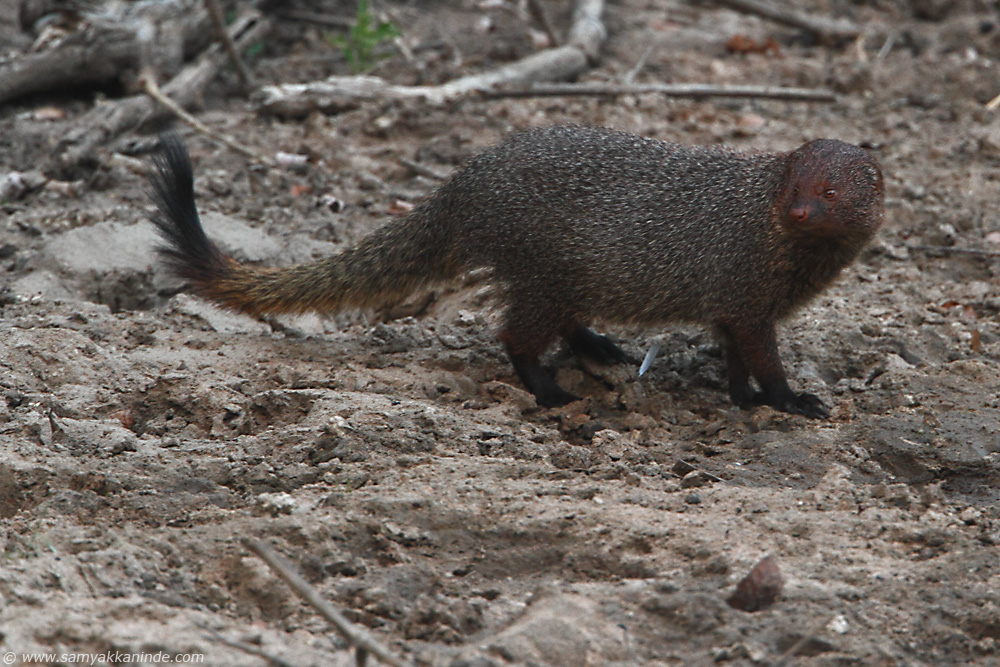 3. stripe-necked mongoose (Herpestes vitticollis) - This was late in the evening before our safari ends. It came over to drink water from the waterhole.
4. The Asiatic elephant (Elephas maximus) family. The herd of around 10-12 elephants was nicely grazing near a drying water body in the evening.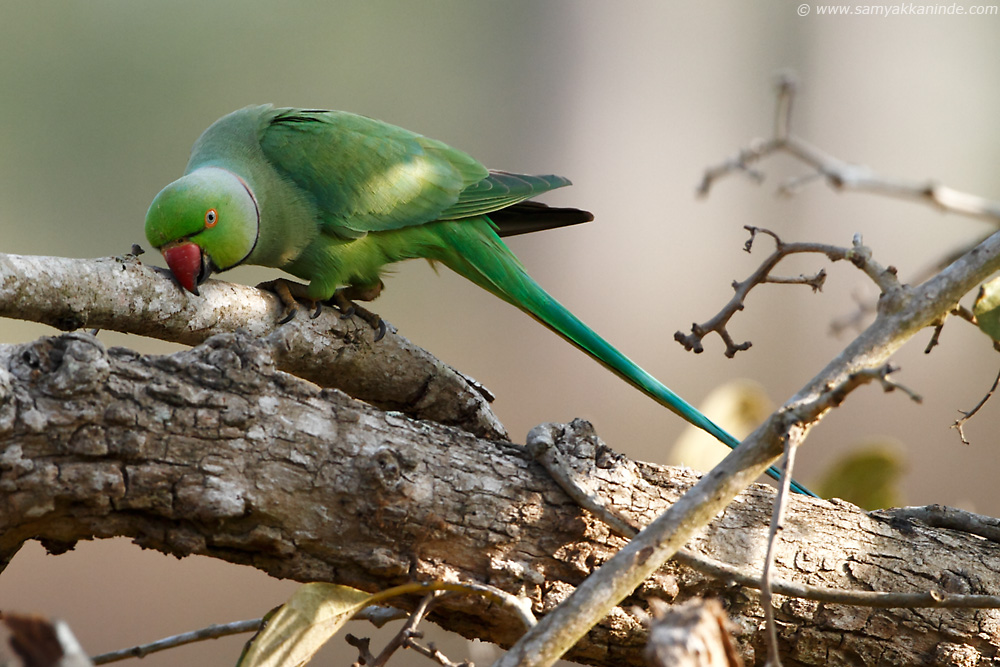 5. Rose-ringed Parakeet (Psittacula krameri) - There were quite a few parrot flocks of rose ringed, vernal hanging and also plum headed. This guy was busy fine tuning the beak by rubbing it on rought tree branch.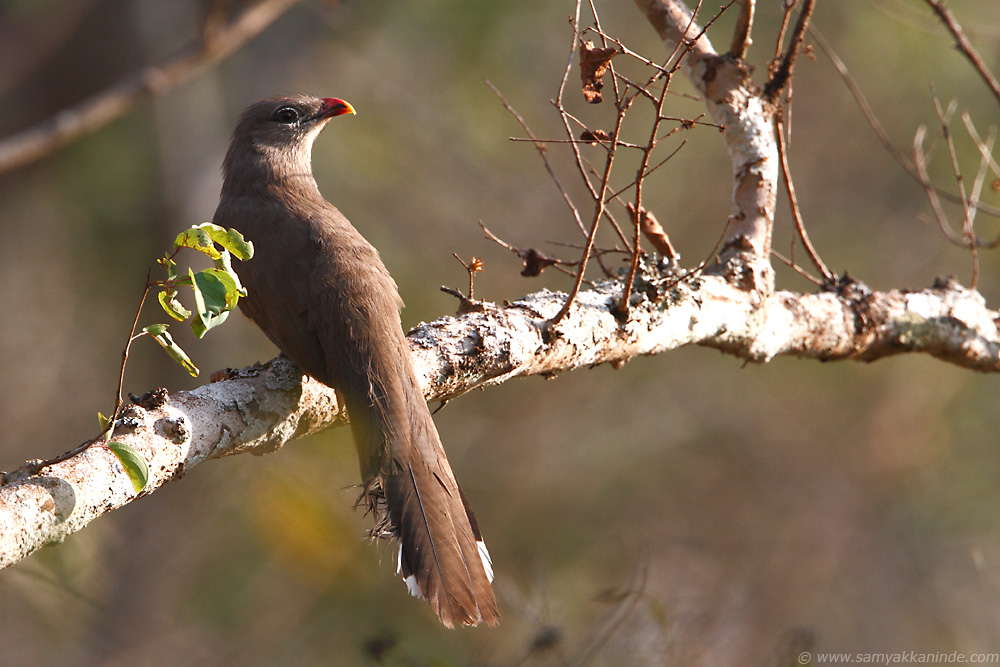 6. Sirkeer Malkoha or Sirkeer Cuckoo (Phaenicophaeus leschenaultii) was enjoying few last sun rays in the winter evening.
7. Crested Serpent Eagle (Spilornis cheela) - This fella was basking in morning sun and also constantly looking for its prey on the ground, a lizard or a snake may be.
8. Woolly-necked Stork (Ciconia episcopus) - This dude was awesome. In a small pond, it hunted almost 3-4 frogs within 15 minutes before us and made their meal.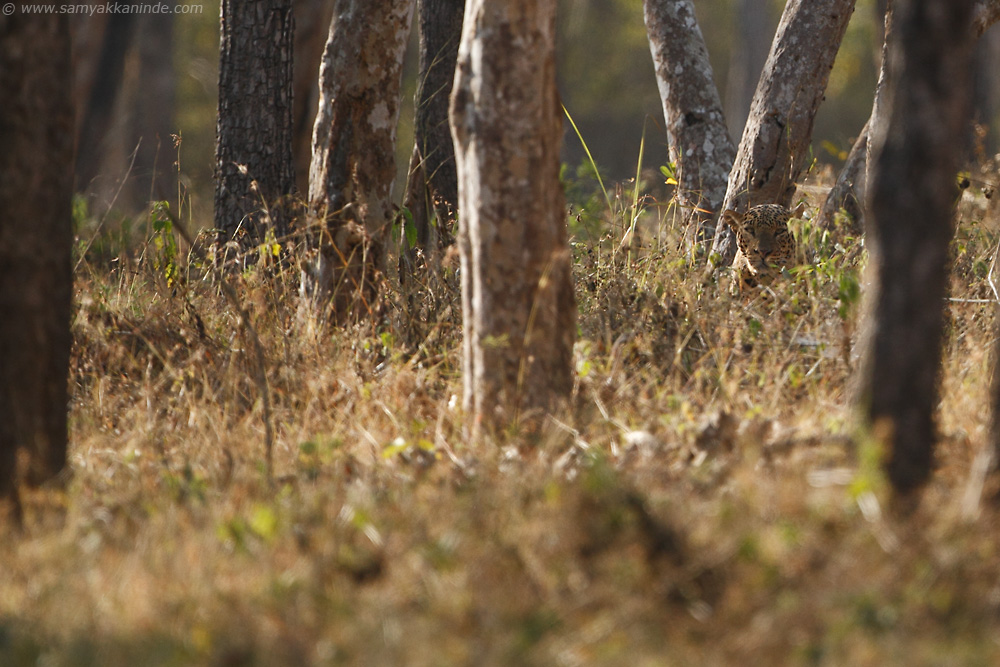 9. The Indian leopard (Panthera pardus fusca) - We were follwing a tiger pugmark which were overriden by fresh leopard pugmarks. We were excited, and here it was, resting under a tree, in thick bushes, watching us constantly.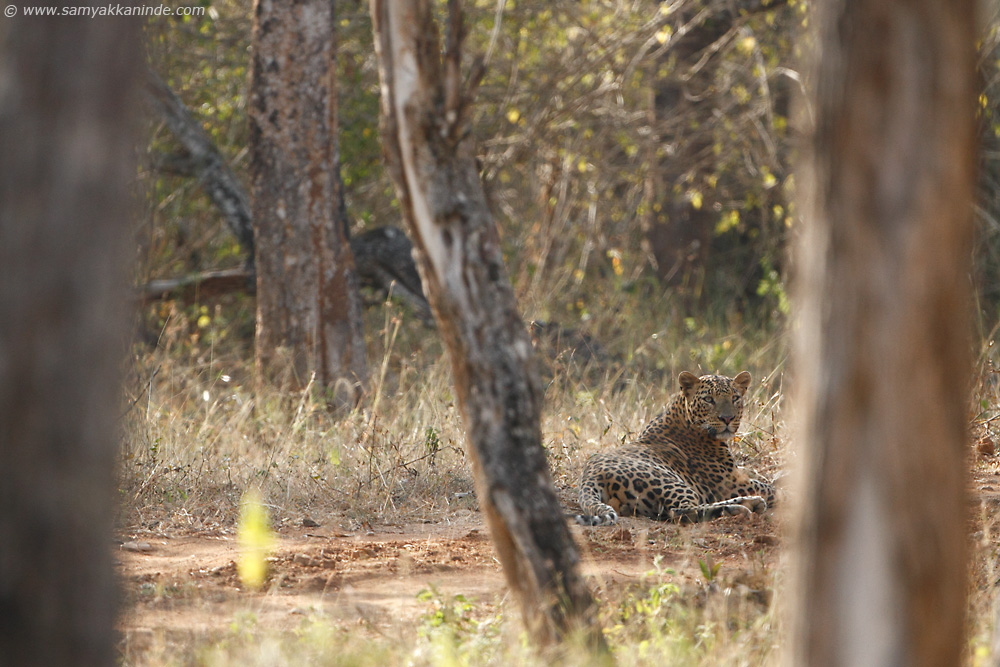 10. Finally, it got up and took back to the road again. Saw us back and again decided to sit down in our track for a moment.
11. It was constantly looking around for may be a tiger in that direction once in a while. While he kept leading us on this dirt track for almost 10 minutes.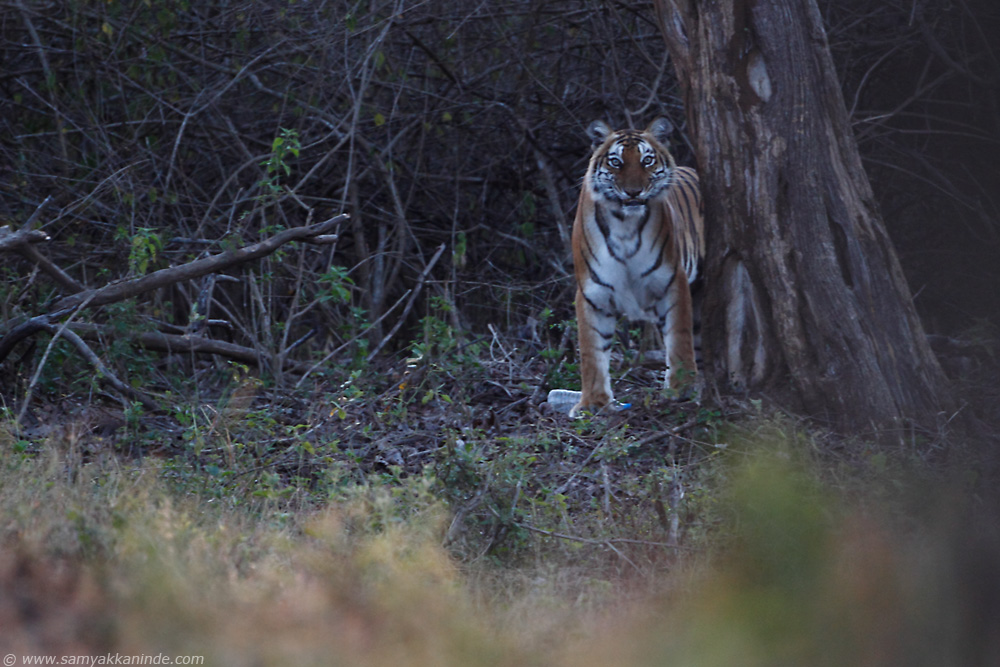 12. The Bengal tiger (Panthera tigris tigris) - Finally, on our last morning safari, this was the first sighting even before the sunlight. For merely 50 seconds, this chance encounter with this sub-adult female tigress was a pongal gift to us. Pretty sad to see a plastic bottle just near its feet.
Different Strokes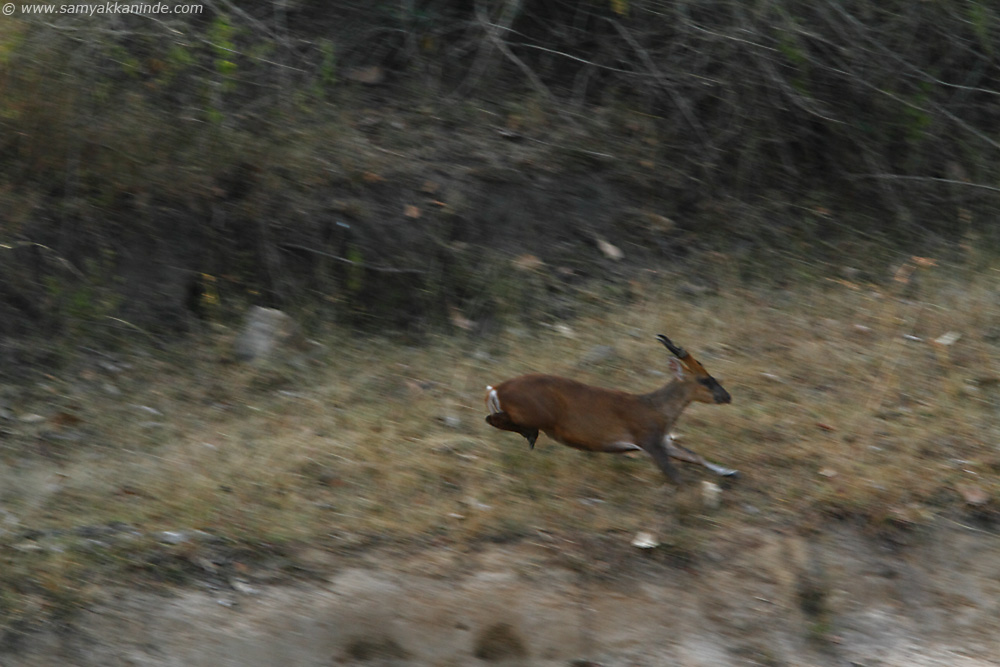 13. The indian muntjac (Muntiacus muntjak) - Also called as barking deer, is the most shy of an animal to see in the forest. But, we were lucky to see it three times all in bad light :-(. Here, trying to show the shyness of it, where it takes off like a bullet after sensing predator or any other threat.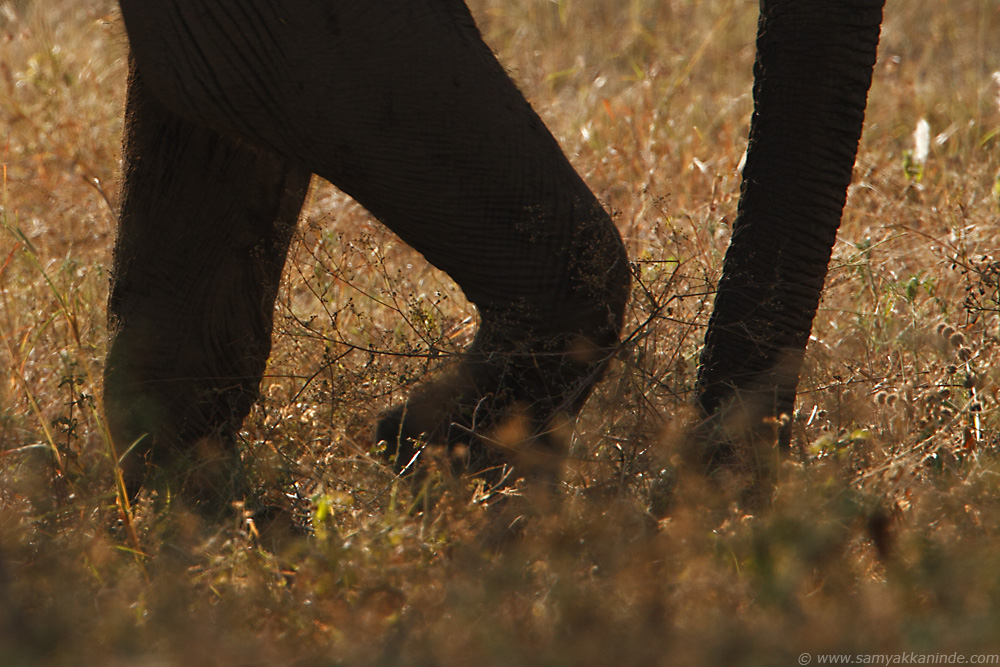 14. The Asiatic elephant (Elephas maximus) - Is it an elephant or human kicking a coconut tree?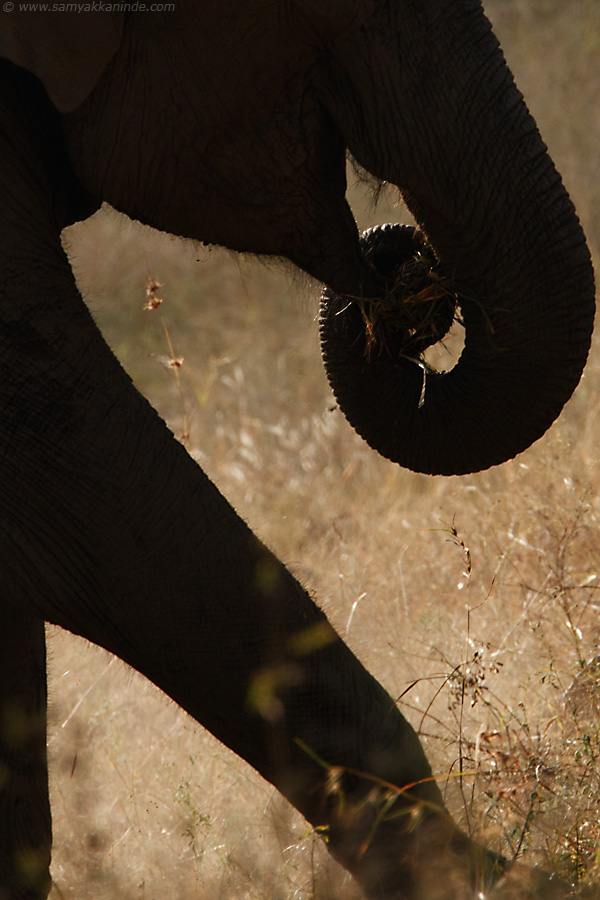 15. The elephant Contour.
16. The Grey langur or also called as hanuman langur were playful. This guy was busy eating something from the bark of the tree while the one above just pissed over its head. See next photo for its reaction.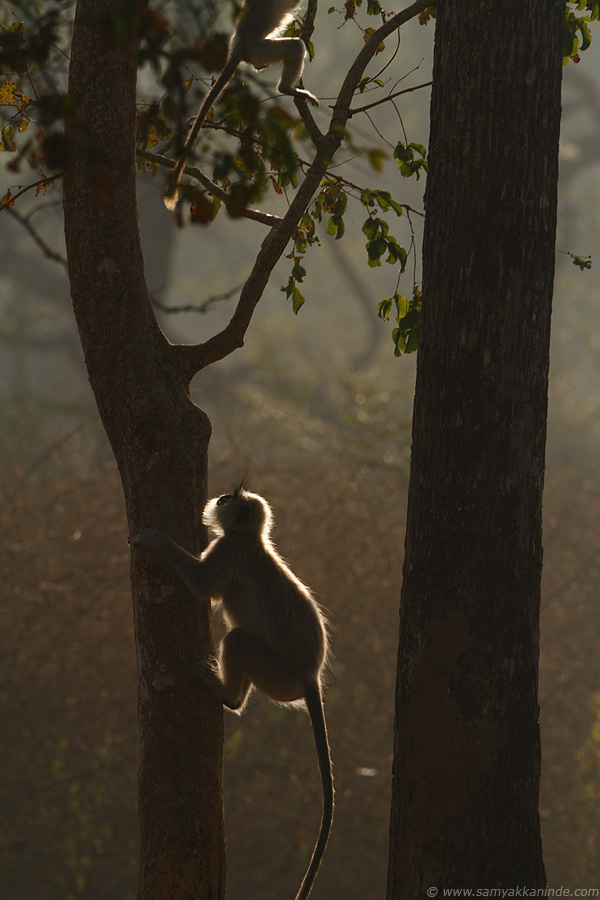 17. The langur below angrily took off to chase away the one on the top that was pissing on it.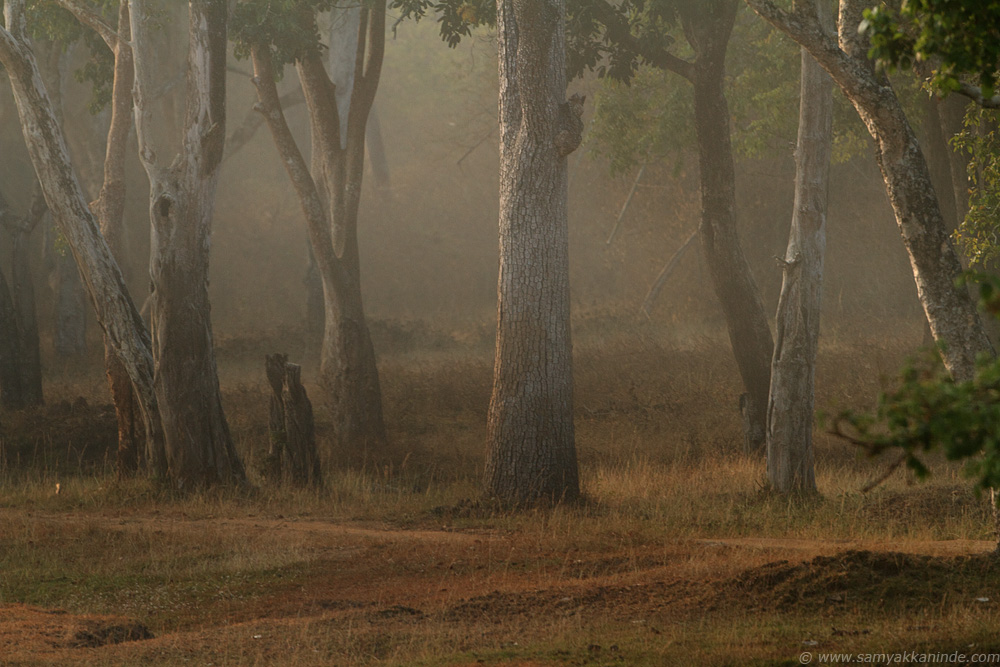 18. The moody winter landscapes of the forest.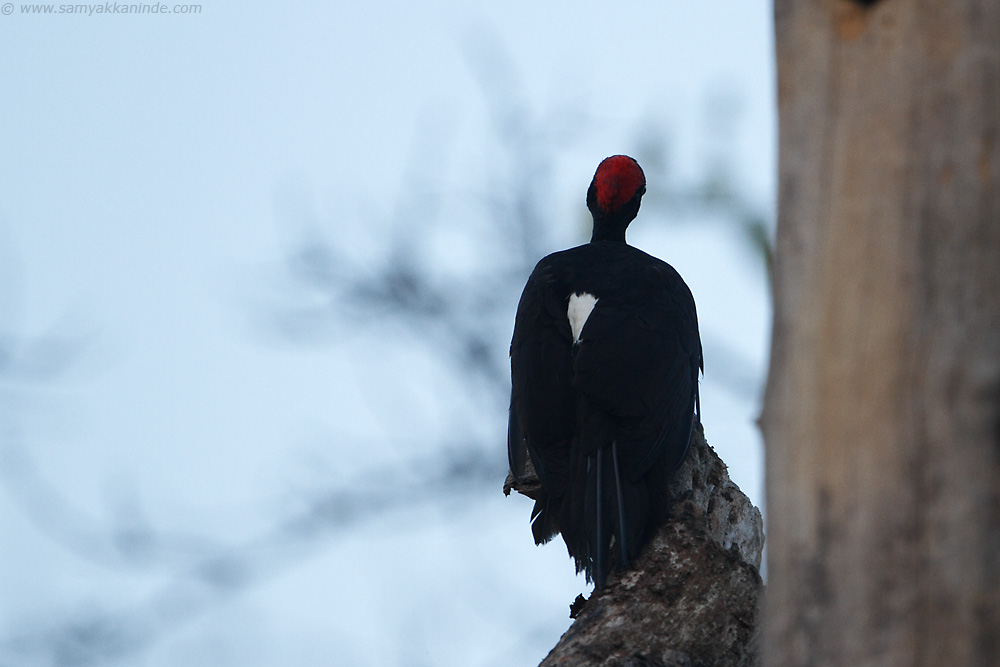 19. The White-bellied Woodpecker looking over the other side. The red crown, the spread out wings gave me an impression as if a warrior king is looking down his balcony to its people.
20. The elephant herd walking back in a line after the sunset. I wish, we could learn from them to be how to gentle even when being so powerful.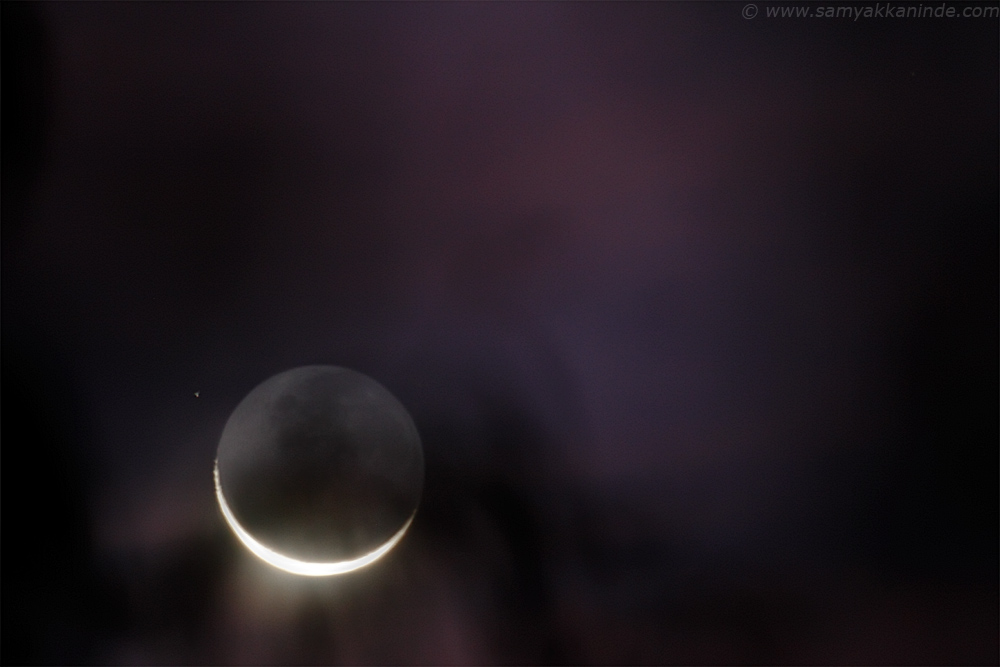 21. The moonrise was superb on both the days with the clouds still having the orange pinkish colors after the sunset.
Do not forget to write about how you liked them below. Thanks for the time spent here.